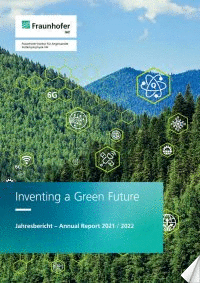 The Annual Report 2021/22 of Fraunhofer IAF has been titled "Inventing a Green Future."
In this year's annual report "Inventing a Green Future" we would like to show you our activities in the field of energy-efficient micro- and nanoelectronics for a climateneutral, secure and independent future. Learn more about how our researchers are working on sustainable solutions based on III-V semiconductors and are breaking new ground to contribute to the technological sovereignty of Germany and Europe.
Digital, PDF and print version
You can read our annual report conveniently in your Browser: E-Paper.
You can download the digital version here: Annual Report 2021/22
If you would like to receive a printed version of the annual report, please send us a request via email.