Fraunhofer IAF at Quantum Effects 2023 in Stuttgart, Germany
Quantum technologies are approaching application
Due to intensive research and development activities in recent years, quantum technologies are well on the way towards application. Fraunhofer IAF will present its latest research results in the fields of quantum sensing as well as quantum computing hardware and software at the first edition of the Quantum Effects trade fair on October 10 and 11, 2023. Experts from research and research management will present the opportunities of quantum technologies to an international audience by means of demonstrators, lectures and service as well as training offers.
Quantum magnetometers can measure magnetic fields with unprecedented precision. Quantum computers have the potential to solve complex problems in seconds, for which even today's supercomputers would need years. In order to quickly bring the advantages of these and other quantum technologies to industrial applications, researchers at the Fraunhofer Institute for Applied Solid State Physics IAF are developing innovative quantum sensors as well as quantum computing hardware and software in cooperation with research institutions and companies. Results and perspectives of their work will be presented by Fraunhofer IAF as part of the Baden-Württemberg booth (Hall 2, booth 2D15) on October 10 and 11 at Quantum Effects in Stuttgart, which will take place for the first time in 2023.
Quantum sensor technology based on NV centers in diamond
With the help of nitrogen vacancy centers (NV centers) in high-purity diamond, extremely precise quantum sensors can be generated for novel applications in metrology or medicine. As part of the Fraunhofer lead project QMag — Quantum Magnetometry, Fraunhofer IAF has used this approach to develop a wide-field magnetometer that operates at room temperature and without shielding from natural magnetic fields. It offers a sensitivity of < 10 µT and a spatial resolution of < 1 µm at high measurement speed. The diamond used as quantum sensor is grown on site at Fraunhofer IAF.
Researchers from Fraunhofer IAF exhibit a demonstrator of the wide-field magnetometer at Quantum Effects. In addition, Niklas Mathes, scientist and PhD student in the field of quantum sensing at Fraunhofer IAF, will give a talk at the QBN Quantum Industry Summit on October 10 between 1 and 2:20 p.m. In his talk, Mathes will delve into measuring magnetic fields in high spatial resolution using NV centers in diamond.
Quantum computing hardware: diamond-based spin qubits for scalable quantum processors
Before quantum computers reach a level of useful application, hurdles must be overcome. Among them are error-proneness, extremely short computing times and high, energy-intensive cooling requirements of current quantum systems and their basic building blocks, the quantum bits (qubits). At Fraunhofer IAF, researchers in the SPINNING and QC4BW II projects are developing scalable solutions for reliable quantum computing hardware based on spin qubits in diamond. These shall enable long computing times, high qubit control and low cooling requirements. The researchers have already demonstrated spin-based qubit control and thus taken a first milestone.
Fraunhofer IAF will also exhibit the setup used to demonstrate the control of spin-based qubits at Quantum Effects. A complementary talk on the development and benchmarking of a diamond-based spintronic quantum register for a scalable quantum processor will be given by Dr. Daniel Hähnel on October 11 at 10 a.m. on the QuantumBW stage.
Quantum computing software: error correction and resilient algorithms with QAOA.
Error mitigation methods and error resilient quantum algorithms allow to exploit the potential of quantum computers until quantum computing hardware is working reliably in practice. In the QORA II project, researchers coordinated by Fraunhofer IAF are developing optimization methods based on the Quantum Approximate Optimization Algorithm (QAOA) and testing them on the IBM Quantum System One operated by the Fraunhofer-Gesellschaft in Ehningen near Stuttgart.
The responsible project leader at Fraunhofer IAF, Dr. Thomas Wellens, will explain the progress of quantum optimization with resilient algorithms in a joint presentation with Dr. Vamshi Katukuri from the Fraunhofer Institute for Industrial Engineering IAO on the QuantumBW stage on October 11 at 2:30 p.m.
Networking in Freiburg and Baden-Württemberg
Since the beginning of its research activities in the field of quantum technologies, Fraunhofer IAF has systematically networked with scientific institutions, industrial companies and start-ups as well as funding institutions. Within the location, Fraunhofer IAF forms the Quantum Sensing Hub Freiburg together with the Fraunhofer Institutes for Physical Measurement Techniques IPM and for Mechanics of Materials IWM. The institutes offer their combined expertise and infrastructure in the field of quantum magnetometry for different use cases, for example in material analysis, bioimaging or medical diagnostics.
In Baden-Württemberg, Fraunhofer IAF coordinates the Competence Center Quantum Computing Baden-Württemberg (KQCBW) together with Fraunhofer IAO. Through the joint funding of the Baden-Württemberg Ministry of Economics, Labor and Tourism and the Fraunhofer-Gesellschaft, five projects are being carried out with collaborative partners from science and industry. Within the framework of the KQCBW, the institutes Fraunhofer IAF and IAO also offer training courses on the functioning and applications of quantum computing.
Fraunhofer IAF is also active in the newly founded state initiative QuantumBW by forming part of the office. The initiative is being funded by the Baden-Württemberg Ministries of Economics, Labor and Tourism and of Science, Research and the Arts. The goal of the QuantumBW is to bundle and expand the state's scientific and economic competencies in quantum technologies. In this capacity, QuantumBW will present itself as the Welcome Desk of the Baden-Württemberg booth at Quantum Effects (Hall 2, Booth 2D15). "At the booth, we have gathered great co-exhibitors from our QuantumBW network that show how strong THE LÄND already is in the field of quantum research. We are looking forward to presenting ourselves and our network at Quantum Effects," says Lukas Kübler from the QuantumBW office.
Networking in Germany and Europe

Nationwide, Fraunhofer IAF is networked with industrial companies, startups and research institutions through the cooperation in the projects SPINNING and QMag. In addition, there is the exchange with partners and customers in the European networks QBN, iQuSense and EPIC as well as the project MATQu, which is funded by the European Union and gives medium-sized companies and start-ups access to know-how and infrastructure throughout Europe.
An overview of the numerous collaborations between Fraunhofer IAF, scientific institutions and industry that have grown over the past five years will be given by Deborah Mohrmann in her presentation on October 11 at 3:50 pm at the QBN Quantum Industry Summit (room C1.1.2).
All presentations at a glance

October 10, 2023, 1 p.m., ICS Conference Room C7.2 and C7.3
Niklas Mathes: "High spatial resolution magnetic sensing based on NV centers in diamond"
October 11, 10 a.m., QuantumBW Stage
Dr. Daniel Hähnel: "Development and benchmarking of a diamond-based spintronic quantum register for scalable systems"
October 11, 2:30 p.m., QuantumBW Stage
Dr. Thomas Wellens and Dr. Vamshi Katukuri: "Quantum optimization with resilient algorithms"
October 11, 3:50 p.m., ICS Conference Room C1.1.2.
Deborah Mohrmann: "Get entangled — Establishing partnerships between science and industry in quantum technologies"
The use of the photo is permitted exclusively in connection with this press release and with indication of the copyright.
The European Union funds the project MATQu.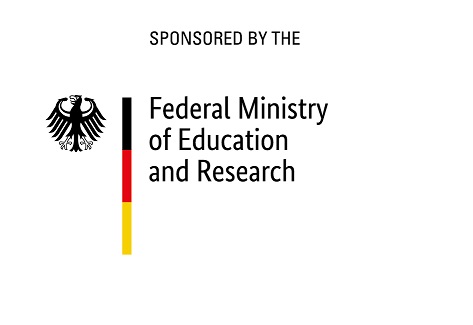 The German Federal Ministry of Education and Research (BMBF) funds the project SPINNING.

The Baden-Württemberg Ministry of Economic Affairs, Labour and Tourism funds the Competence Center Quantencomputing Baden-Württemberg and the projects QC4BW II and QORA II.