QuantumBW brings excellent research into application
Baden-Württemberg launches innovation offensive in quantum technologies
Together with partners from science and industry, the State Government gave the start signal for QuantumBW, Baden-Württemberg's joint innovation initiative for quantum technologies, and presented its quantum strategy.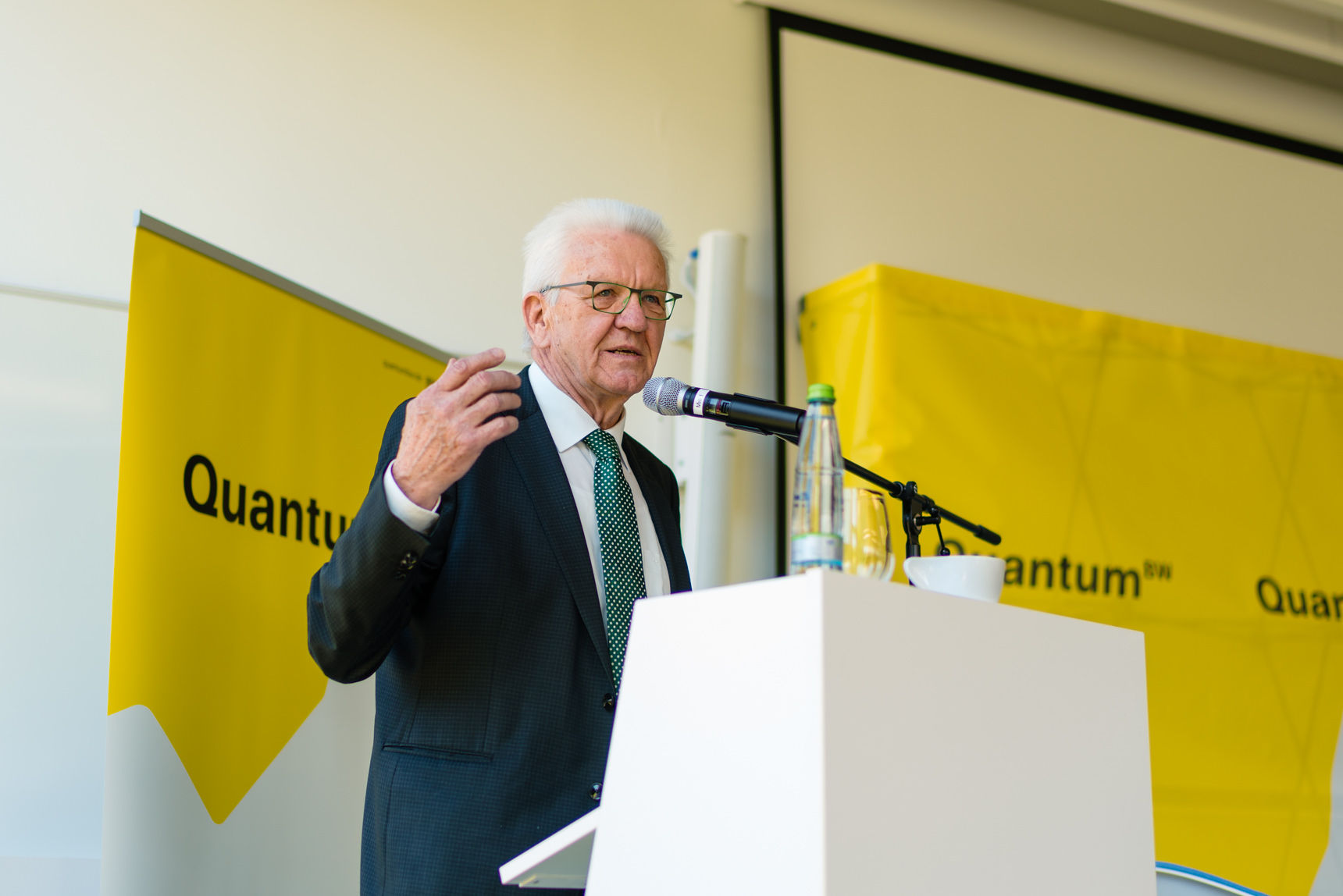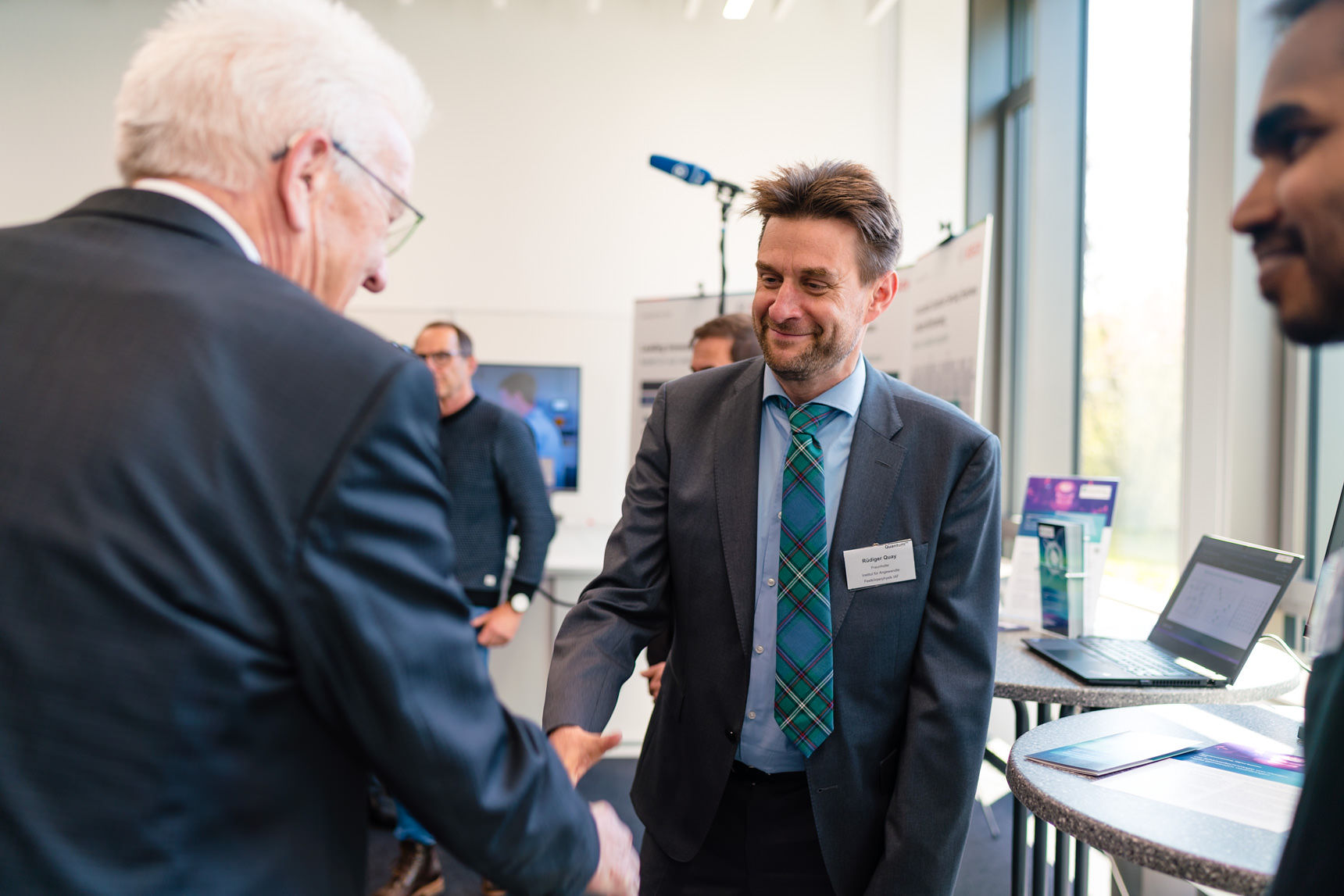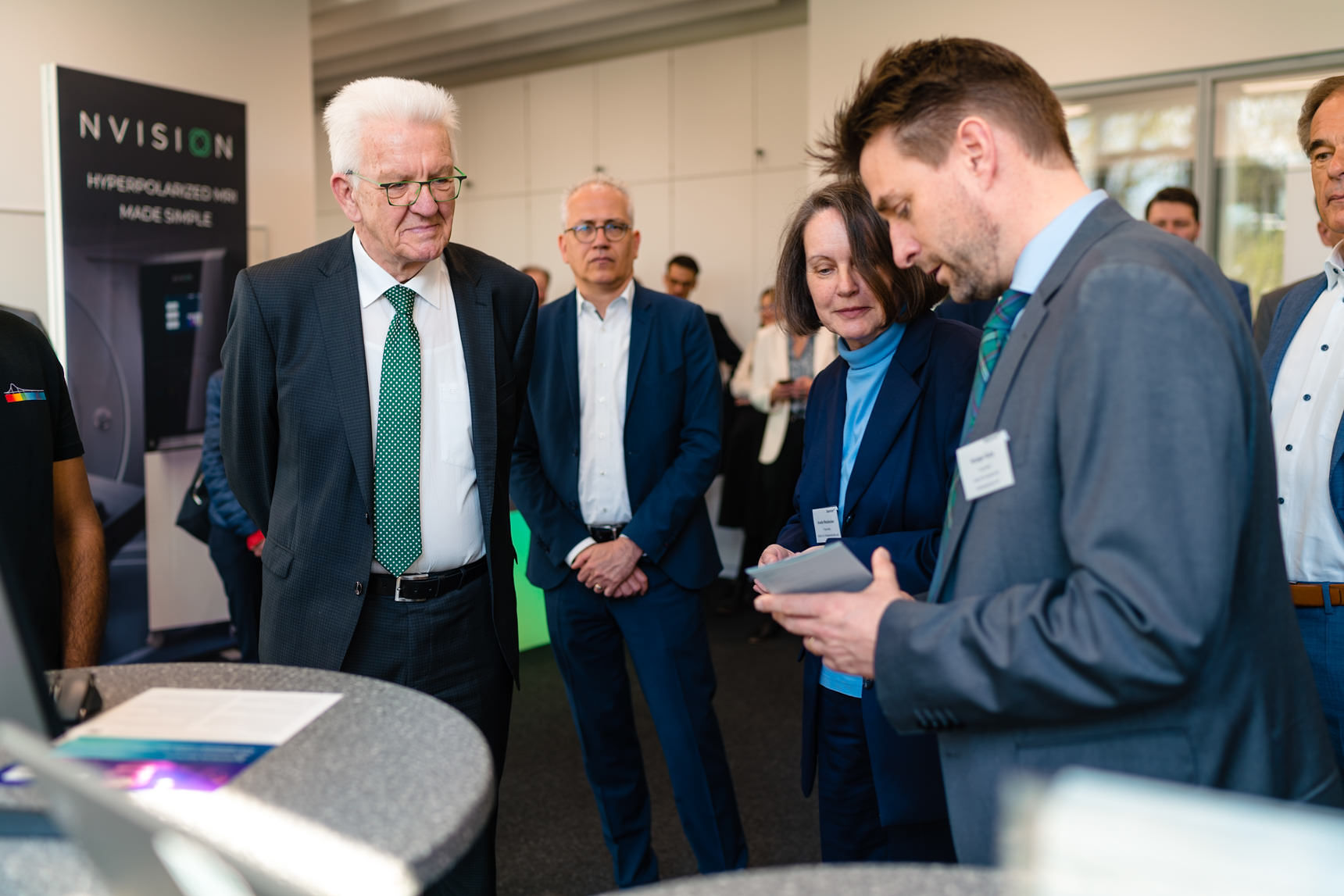 High-performance quantum computers, ultrasensitive sensors, or particularly precise MRI devices: Quantum technologies offer enormous opportunities in the key social areas of health, mobility, and climate protection and play a decisive role in determining innovative capability and value creation. With the support of the state of Baden-Württemberg, global players from industry have joined forces with universities and research institutions to form QuantumBW. Together with the partners from science and industry, Minister President Winfried Kretschmann, Science Minister Petra Olschowski and Economics Minister Dr. Nicole Hoffmeister-Kraut gave the start signal for the innovation offensive and presented the state's quantum strategy on Friday, April 21, at the Center for Applied Quantum Technology (ZAQuant) at the University of Stuttgart.
"Quantum technologies are a key technology of the future. They have the potential to transform our world in ways we could not have imagined before. A quantum computer, for example, computes millions of times faster than a conventional PC. It computes in parallel, not sequentially. The quantum computer beats any supercomputer. And quantum sensors can bring enormous advances in medical technology, for example, for faster and better cancer diagnostics. And we are only at the beginning of the development: With quantum technologies, we will be able to measure, analyze and calculate with high precision and incredible accuracy in the future. Baden-Württemberg has outstanding quantum expertise in science and industry. With QuantumBW, we are now setting the decisive course for Baden-Württemberg to expand this leading position," said Minister President Winfried Kretschmann. He added that the solidarity between industry, science and politics that has now been achieved means that the first concrete products, market-ready applications and regional value creation can be expected in three to five years.
QuantumBW builds on strong network
"QuantumBW is based on a successful network in which strong partners from science and industry already cooperate in a variety of successful ways to create added value for society—for example, through innovations in medical diagnostics and imaging. With QuantumBW, the State Government is making a long-term investment in a structure and overarching umbrella brand that will further strengthen this network and make it even more visible internationally. In this way, we are also increasing the attractiveness for highly qualified researchers and specialists. We are starting where Baden-Württemberg is already particularly strong: In quantum sensor technology in particular, there is a high density of excellent research institutions and leading companies," said Science Minister Petra Olschowski. This focus, combined with the strong involvement of industrial partners, distinguishes QuantumBW from other networks in Germany, she said.

"As a leading innovation and industrial region in Germany and Europe, Baden-Württemberg must play a significant role in the global competition in quantum technologies. It is important that we are as far ahead as possible in value creation with novel quantum sensors or the applications of quantum computing. And we can only do that if we unite all the players and pull together," explained Dr. Nicole Hoffmeister-Kraut, Minister of Economics, Labor and Tourism. "With QuantumBW, we are bringing together the players from business, science and politics in Baden-Württemberg to turn quantum innovations into new industrial pillars in the state," Hoffmeister-Kraut added.
Precise knowledge transfer to industry and science thanks to the Fraunhofer-Gesellschaft
Ensuring a precisely fitting transfer of knowledge to industry and science: To make this possible, institutes Fraunhofer IAF and IAO are analyzing the needs of industry with their industrial partners within the framework of QuantumBW and contributing these to the quantum strategy of the state of Baden-Württemberg. Within the framework of the Competence Center Quantum Computing Baden-Württemberg, the two institutes have already built up a very comprehensive and unique training program throughout Europe on the topic of quantum computing, which is now being further developed in QuantumBW and supplemented by current applications and issues. To ensure the transfer to industry, the institutes—also in close cooperation with the Baden-Württemberg Ministries of Science, Research and Art as well as Economy, Labor and Tourism—are further developing the roadmap, transfer concepts and the quantum strategy of the state of Baden-Württemberg with a special focus on business-oriented research and development in the field of quantum computing and quantum sensor technology.
Research that leads the way: With the Quantum Atlas Baden-Württemberg, which is being developed within the framework of QuantumBW, the two institutes provide an overview of the existing scientific and industrial activities on quantum technologies in the state of Baden-Württemberg.
QuantumBW office as central point of contact for quantum activities in the state
In the future, the QuantumBW office, jointly funded by the Baden-Württemberg Ministries of Science, Research and Art and of Economics, Labor and Tourism, will serve as a central point of contact, strategically networking and coordinating players and locations in the Baden-Württemberg quantum community.
With this goal in mind, Fraunhofer IAF and IAO are establishing the QuantumBW office in close cooperation with IQST of the University of Stuttgart and Ulm University. In doing so, the two Fraunhofer institutes are drawing, among other things, on their extensive cooperation network of research institutions and industrial partners, which is unique in Germany and which they have built up within the framework of the Competence Center Quantum Computing Baden-Württemberg.
"With the funding for the establishment of the umbrella structure QuantumBW, the state, despite the difficult budget situation, is laying the foundation for the bundling and networking of the decentrally distributed players and quantum technology competencies in Baden-Württemberg—for one of the most exciting and promising developments in modern physics. At the same time, we are aware that a long breath is needed in the support and development of quantum technologies. That is why we will continue to actively promote and support QuantumBW in the future," said Minister President Kretschmann.
Two spokespersons for QuantumBW from science and industry
The face of QuantumBW are two spokespersons for the field of science and industry—Professor Joachim Ankerhold, director of the Institute for Complex Quantum Systems at Ulm University, and Dr. Volkmar Denner, scientific advisor in the field of quantum technologies and former chairman of the Bosch board of management.
"Based on an already internationally unique research landscape in quantum sciences, we want QuantumBW to take the final leap into the technology of the future, initially for quantum sensing, but then also for quantum computing. The prospect of using quantum mechanical properties of defects in diamonds, for example, to detect minute magnetic fields with unprecedented spatial resolution opens up unimagined perspectives for medical diagnostics. Even if quantum computing still needs significantly more fundamental development work, it has the potential to revolutionize materials research or logistics, for example," said QuantumBW spokesperson Professor Joachim Ankerhold.
QuantumBW spokesperson Dr. Volkmar Denner added: "Quantum technologies have great disruptive potential, but they require high upfront investments and long staying power. For example, quantum sensors will make it possible to measure signals many times smaller than with conventional sensors. This could lead to completely new applications, for example in medical technology. A long-term vision is to be able to control devices with our thoughts," said QuantumBW spokesman Dr. Volkmar Denner.
The Baden-Württemberg quantum strategy summarizes the strategic objectives and fields of action of QuantumBW and lays out a binding roadmap for them over the next ten years. The four fields of action are: Networking & Visibility, Cooperation Projects, Infrastructure, Spin-offs & Education and Training.
Start-up funding follows previous support
For the establishment of QuantumBW in the sense of an umbrella structure and to bundle the decentrally distributed players and quantum technology competencies in Baden-Württemberg, the state will initially provide a total of € 31.1 million from 2023 to 2027. This will allow important structural and networking measures of the quantum community in Baden-Württemberg to be initiated in the short to medium term. Since 2019, the state has funded various quantum science projects with around 115 million euros. Complementary to the funding from the state, over 480 million euros in third-party funding from the Federal Government and the EU has been acquired at university and non-university quantum science research sites in Baden-Württemberg over the past ten years.
Network QuantumBW
The first partners of the growing QuantumBW network include the following companies, start-ups, state universities and non-university research institutions:
Balluff GmbH
Robert Bosch GmbH
HQS Quantum Simulations GmbH
IBM Deutschland GmbH
Mercedes-Benz-Group AG
NVision Imaging Technologies GmbH
Q.ANT GmbH
Quantum Brilliance GmbH
TRUMPF SE + Co. KG
Carl Zeiss AG
University of Freiburg
University of Tübingen
Karlsruhe Institute for Technology (KIT)
Heidelberg University

University of Konstanz
University of Stuttgart
Ulm University

German Aerospace Center (DLR)
Fraunhofer-Gesellschaft zur Förderung der angewandten Forschung e.V.
Max-Planck-Gesellschaft zur Förderung der Wissenschaften e.V.
From now on, QuantumBW bundles all research activities and initiatives in the state under one roof and thus strengthens the existing activities. As an umbrella brand, QuantumBW achieves even more international visibility for quantum technology made in THE LÄND. An office provides a central point of contact that strategically networks and coordinates information, actors and locations of the quantum ecosystem in Baden-Württemberg.
The use of the photos is permitted exclusively in connection with this press release and with indication of the copyright.