Fraunhofer IAO and Fraunhofer IAF refining a successful quantum computing training program
From quantum awareness to quantum readiness with successful transfer of expertise
To ensure that the key technology of quantum computing becomes established in the German economy as quickly as possible, Fraunhofer IAO and Fraunhofer IAF are refining their quantum computing training program for participants from industry and research and playing an active part in the growing innovation ecosystem in Ehningen near Stuttgart.
The path to using quantum computing for industrial applications is linked to many different factors and is becoming increasingly tangible. Businesses are particularly concerned with what specific problems these innovative systems can solve and when they can expect to see the first practical applications that could benefit industry in the near future. In light of this, the Fraunhofer institutes IAO and IAF have created a quantum computing training program and are offering a platform for knowledge transfer in this area that is the only one of its kind in Germany.
The cornerstone of the training program is the first commercially viable quantum computer in Europe under German data protection law—the IBM Quantum System One. It has been in use in Ehningen since last year and is being used across Germany by the partners of the various Fraunhofer competence centers through their cooperation with the Fraunhofer-Gesellschaft. The system offers the unique potential to make Germany into a sovereign quantum computing venue and to develop important key concepts from an early stage.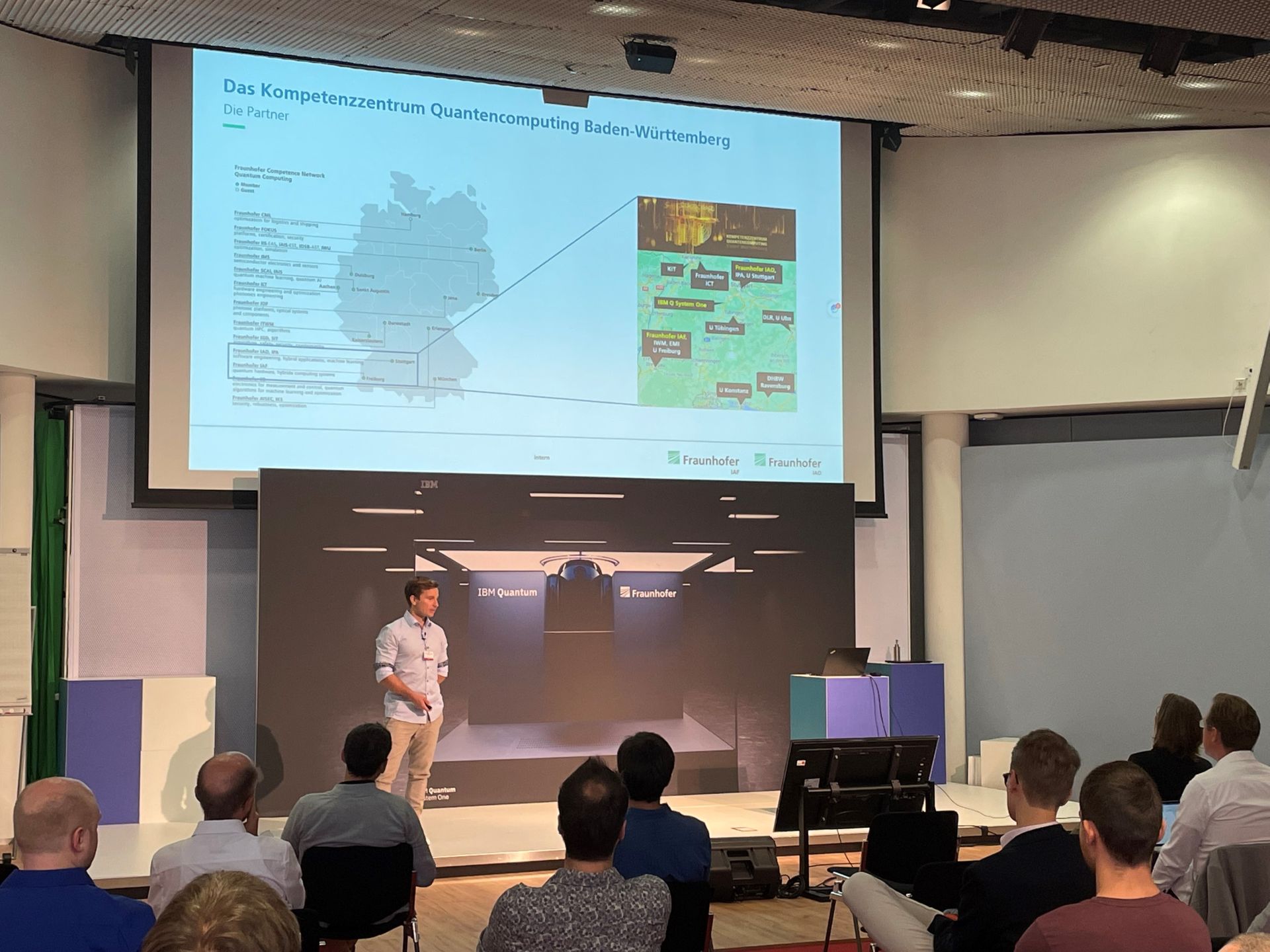 Successful transfer of knowledge to industry with hands-on training program
The Fraunhofer Institute for Industrial Engineering IAO, together with the Fraunhofer Institute for Applied Solid State Physics IAF, set up a one-year quantum computing training program for researchers and businesses early this year. This program reinforces the awareness of this key technology — which has been identified on a wide scale — with sound knowledge of quantum technologies and how to program them. With over 80 participants from research and industry, the training program also offers a sweeping overview and concrete recommendations for action regarding the existing competitive landscape, and also provides an opportunity to obtain initial experience with real quantum computers, like the IBM Quantum System One in Ehningen.
With this transfer of expertise to German industry, the Fraunhofer institutes IAO and IAF are supporting enterprises in getting a realistic overview of current developments in quantum computing, and ultimately taking concrete steps in their own businesses. "I consider it important as a business to focus on quantum technology right now, because the fundamental knowledge is necessary in order to understand and make use of the benefits of the technology when it reaches maturity," says Horst Stühler, a training participant and data scientist at Zeppelin GmbH. "In Baden-Württemberg, our training program is adding crucial value to the growing quantum computing ecosystem, since we are providing in-depth knowledge and thus enabling not only industry, but also researchers, to assess the current state of research in the quantum computing field. We are also bringing together the most important hardware and software providers, because both a network and expert application-specific knowledge are essential if we are to take the next big step towards industrial use," adds Dr. Christian Tutschku, technical director of the training program and leader of the quantum computing team at Fraunhofer IAO.
A growing ecosystem driving innovation
As part of a networking meeting for the training program on July 12, 2022 at the IBM Campus in Ehningen, new topics were identified for the ongoing program—there was significant interest both in the area of post-cryptography in the financial sector and in a scientific and realistic assessment for bringing businesses into the area of quantum technologies. The event also provided in-depth insights into the growing quantum computing ecosystem. "Direct interaction with training participants at the networking meeting was very valuable, and showed that we are addressing the right issues in our program: from quantum awareness, variational algorithms, quantum computing and AI to error mitigation," summarizes Dr. Thomas Wellens, a lecturer in the training program and project manager at Fraunhofer IAF.
The installation of the IBM Quantum System one in Ehningen was the initial spark for creating of this promising ecosystem, with the potential to become the European epicenter for quantum computing. The fact that the most important players in research, industry and the start-up scene are establishing themselves in Ehningen near Stuttgart is creating the conditions for a flourishing innovation ecosystem, which also requires planning from an urban point of view. The Quantum Gardens project is an innovation campus of integrated residential and working environments that will emerge over the coming years, where proximity to the quantum computer in particular could give rise to entirely new potential in terms of location and development.
Fraunhofer IAO and Fraunhofer IAF are planning to offer the second phase of their training program to various target groups in modular form early next year, and to create a working group of companies.
The use of the photo and the video is permitted exclusively in connection with this press release and under indication of the copyright.