Oliver Ambacher reappointed as Director of Fraunhofer IAF
Since January 1, 2018, Prof. Dr. Oliver Ambacher is again Director of the Fraunhofer Institute for Applied Solid State Physics. He headed the institute from 2007 to 2016 and was now reappointed.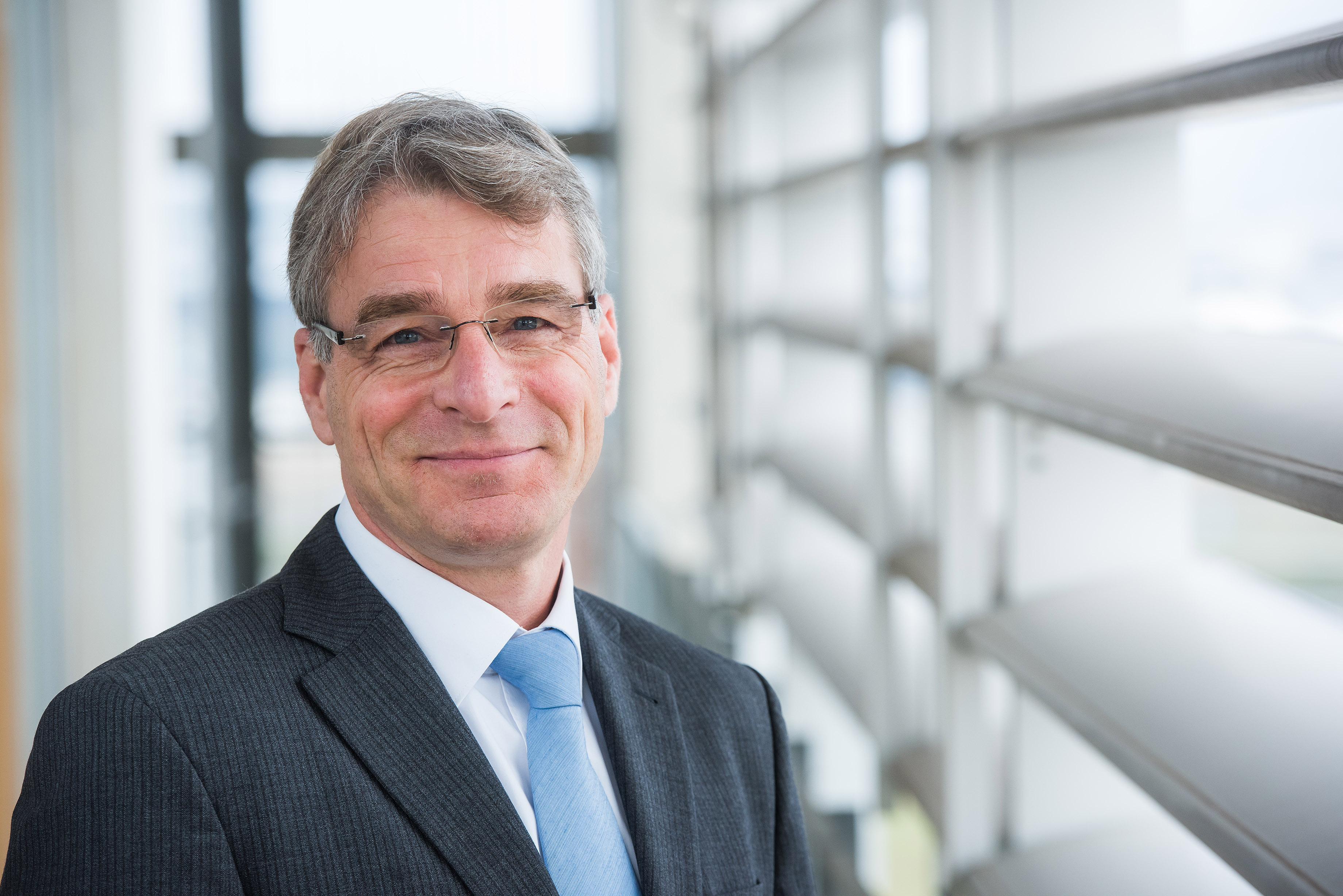 Oliver Ambacher has returned to Fraunhofer IAF as professor for Power Electronics at the Department of Sustainable Systems Engineering at the University of Freiburg.
»I am looking forward to the renewed opportunity to help shape Fraunhofer IAF's future research fields. I see great opportunities for the institute and its partners to translate research findings from the fields of energy-efficient optoelectronics, sustainable electronic systems and applied quantum sensors into innovations,« says Ambacher, explaining the motivation for his future work.
In 2007, Ambacher was appointed as Fraunhofer IAF's Director for the first time. In his almost ten years of activity, the institute increased its annual research budget by 45 percent to 32 million euros and the number of employees by 55 percent to 280. The institute's competencies were expanded along the value chain of the semiconductor industry, from materials and technologies through components and circuits to modules and systems. This significantly improved the transfer of research and development into industrial application. In the future, Ambacher would like to promote the business units of the institute by establishing new research topics, such as quantum sensors and memristive electronics. »These developments can perfectly build on the strengths of Fraunhofer IAF in the fields of novel materials and nanotechnologies,« explains Ambacher.
Expert in the field of energy-efficient electronics
Oliver Ambacher obtained his PhD in physics at the Technical University in Munich in 1993. In 1995, he concentrated his research activities on electronic and optoelectronic construction elements based on gallium nitride (GaN). As a fellow of the Alexander von Humboldt Foundation, he was granted the opportunity to expand his work in the field of GaN transistors for high frequency power amplifiers at Cornell University, US, in 1998. Following his habilitation, he was appointed professor for Nanotechnology in 2002 and elected as director of the Center for Micro- and Nanotechnologies at the Technical University in Ilmenau in 2004. From 2007 to 2016, Oliver Ambacher headed the Fraunhofer Institute for Applied Solid State Physics. In this function, he received the Karl Heinz Beckurts Award for the development of energy-efficient power amplifiers for mobile networks of the fifth generation in 2015. This success was the motivation behind his change within the University of Freiburg from the professorship for Compound Semiconductors to the Chair of Power Electronics at the recently founded Department of Sustainable Systems Engineering. Thanks to Ambacher's return to Fraunhofer IAF, research projects based at the University of Freiburg in the fields of power and high frequency electronics can optimally be transformed into particularly energy-efficient electronic systems and, in collaboration with partners from industry, into marketable products.
About Fraunhofer IAF
The Fraunhofer Institute for Applied Solid State Physics IAF ranks among the leading research institutions in the area of compound semiconductors. Based on these semiconductors, IAF develops electronic and optoelectronic devices as well as integrated circuits and systems. In a clean room of 1000 m² and additional laboratory space covering 3000 m2, epitaxy and processing equipment as well as measurement technologies are available to realize high frequency circuits for communication technology, voltage converter modules for electrical engineering, infrared and UV detectors for safety and security applications, as well as infrared laser systems for medical technology. Important innovations of the institute include high brightness white light-emitting diodes for lighting technology, energy-efficient power amplifiers for mobile communications and highly sensitive laser-based analysis systems to control drinking water quality.
The use of this photographs is only permitted in relation to this press release.