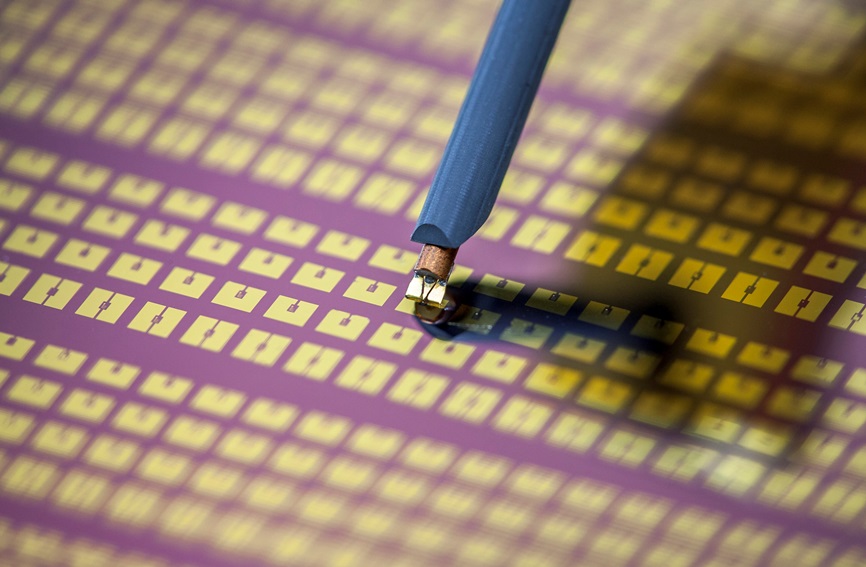 What is the topic of your dissertation?

The topic of my thesis isthe new material graphene, a two-dimensional carbon structure, which achieves a minimization of mechanical losses when used as an electrode for volume wave filters, such as those used in smartphones and other mobile devices.
»My work is innovative because I was the first to show that graphene can also be used as an active electrode material.«
I studied three major topics in more detail: First, the synthesis, i.e. the production of graphene using low-pressure CVD. Second, the transfer of the graphene grown on a copper substrate to an insulating material, in my case aluminum nitride, whose property as a piezoelectric material is essential for volume wave resonators. And third, the application of graphene in a functioning device - a resonator structure used for high frequency filters in wireless communication.
In what way is your dissertation original?
At the moment other materials are used as electrodes in filters, mostly metals. These are very conductive, but also very heavy. This has a negativ effect on the efficiency due to losses caused by the metal's mass. If you want to reduce the mass, you can make the metal thinner. But then the losses increase very quickly. The idea with graphene is that it has a very good conductivity, but significantly less mass. If we want to become more energy-efficient and reduce electrode losses, graphene is an ideal material. Graphene is also biocompatible. Metals can also be recycled, but graphene is simply carbon and therefore more environmentally friendly.
What was the highlight of your dissertation?
There were several, actually. One was when I saw that I had grown graphene on copper foil myself for the first time. The topic was newly established at IAF at the time and the exact processes were not yet familiar to us. The second highlight was when I was able to transfer graphene to aluminium nitride for the first time. We transfer the graphene via a kind of water bath, and it was fascinating to see how this two-dimensional material floats on the water and that ultimately an atomically thin layer is actually conductive.
»The big highlight came towards the end of the work, when I had built a resonator with graphene as electrode material - when I saw that the resonator shows its characteristic admittance behavior, and that graphene is mainly responsible for an increase of the efficiency parameters. That was a real quantum leap for me.«
What advice would you give to others who want to start a dissertation?
Usually you start with a topic that is completely new and where there is little experience. This is exciting and interesting. Surely there are always difficult situations. But what I see as encouraging is that you always find support among colleagues here. You can always ask questions. Don't exert excessive pressure on yourself.
»Something that really pushed me was my first publication. It became internationally recognised and that gave me a huge boost. The first participation in an international conference was also exciting, as I could promote my own work outside the institute.«
How did you come to work at IAF?
After my diploma, I wasn't sure whether I wanted to do my doctorate or to work in industry. I applied for both. I didn't want to do my doctorate at university because I wanted to be close to industry and pursue applied research. At IAF, I was attracted by the topic because I hadn't heard of graphene before. During the job interview I got on really well with my colleagues. And then I liked the idea of spending another three or four years in research. Now I'm at the point where I don't see myself as the classic researcher, but want to take the step to work in industry. The time spent here during my PhD was ideal to find this out, because working on the applied projects prepared me for working in industry.